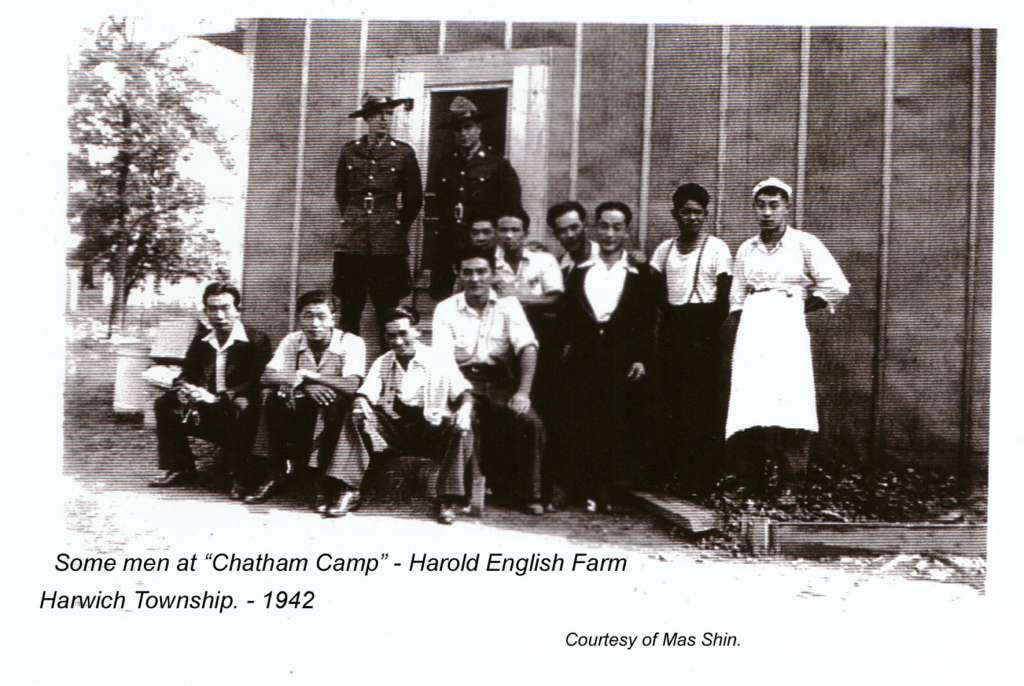 The Chatham Camp
Japanese citizens began to immigrate to Canada's west coast beginning in 1877 and Japanese-Canadians served Canada during World War I. Despite this, the future of the generations that followed would be negatively impacted by World War II. On Sunday, December 7, 1941, Japanese aircraft attacked the American fleet at Pearl Harbour, Hawaii, and war with Japan expanded the scope of World War II. In 1942, the Canadian government ordered an evacuation of all persons of Japanese ancestry from British Columbia under the War Measures Act to locations east of the Rockies.
By the spring of 1942 it was obvious that there would be a labour shortage on Southwestern Ontario farms. The forced evacuation of Japanese-Canadians offered a solution. Approximately 300 Canadian-born men of Japanese descent were destined for Ontario. This was not the first time that Kent County had experienced a farm labour shortage. When a similar problem arose during World War I, Mexican workers were imported and housed on the C&D Sugar Company property in Chatham. This time, however, anti-Japanese sentiment in Chatham resulted in the "Chatham Camp" being re-located to the Harold English farm in Harwich Township.
The following Japanese-Canadian men arrived in Kent County in May 1942:
HANDA, Roy
HIRAI, Jimmy
ICHIKOWA, Bob
ICHIKOWA, P.
ISHII, Randy
IDENOUYYE, A.
IDENOUYE, Nobby
KAWAGUCHI, Nobby
KURHOKA, George
NISHIJIMA, Tosh
NITTA, Massey
NISHIZAKI, A.
NISHIZAKI, Jack
NONKI, Idenouye
NONKI, Idenouye
OHOMO, Charley
SAKAMOTO, Jim
SAMESHIMA, Tadayuki
SHIMADA, Tomomi
SHIMIZU, Kaide
SHIN, Mas
TAKAOKA, George
TOHANA, Tony
TOKAOKO, Hideo
TOKAOKO, W.
TOMIYAMA, T.
TOMOTSUGU, Masaru
USHIJIMA, Roy
WATANABE, Kelly
The young men began planting and harvesting sugar beets and other crops on the English farm and other farms in that area of Kent County under the supervision of RCMP Constable McCabe. They were required to work for 25 cents per hour. Since all of the Japanese-Canadians in British Columbia had been evacuated from that province for "their protection," they were required to pay 70 cents per day for room and board and one dollar per month to cover medical expenses.
With the completion of the 1942 harvest, the English Camp was closed and most of the men moved to Toronto or took up forestry work in northern Ontario. In 1943 the camp would reopen as a German Prisoner of War camp, remaining in operation until 1947.